---
- FIT-to-GOs mission is to improve the health and well-being of the people
in our community by encouraging positive habits and lifestyle changes -
---
---
NEW! get your FIT-to-GO apparel!
---
FIT-to-GO now offers 24/7 access!
Click below to purchase your 24-hour access

privilege NOW

*In order to purchase online you must be an active FIT-to-GO member with an online

mindbody

account*

Not a Member? Purchase a fixed plan below
*to purchase a flex plan (Electronics Funds Transfer Plan) come in to FIT-to-GO to set up your membership*
For more information:
our 24 hour access is now available!!!
24-hour access privilege requires a one-time fee of $50 - discounted to $25 for a limited time!!!
stop by our facility to talk to one of our staff members with your questions
shoot a text or call to 217-246-4980
email meghan@fittogofitness.com
---
---
---
News & Announcements.
NEW STAFFED TIMES
​Please note that we have made a couple of slight adjustments to our staffed hours. Effective May 1st.
Monday - Thursday: 5a - 8p; Friday: 5a - 5p; Saturday: 9a - 2p; Sunday: 7a - 9a
---
​FIT-to-GO Now Offers SilverSneakers® Fitness and Prime®

Fitness to qualifying participants.

​FIT-to-GO has announced that it has begun welcoming members of the award-winning Healthways SilverSneakers

®

Fitness and Prime

®

Fitness programs to its Litchfield location. The Healthways Prime

®

Fitness Program is part of an overall health management solution for members with participating insurance plans. The SilverSneakers

®

Fitness Program is the nation's leading exercise program designed exclusively for older adults and is available -- at little or no additional cost -- through many Medicare health plans, Medicare Supplement carriers and group retiree plans. Stop in to FIT-to-GO or call for more information

---
FIT-to-GO Kicks Off Wellness Challenge.
PARTICIPANTS CAN ENTER THE CHALLENGE ANY TIME DURING BUSINESS HOURS UNTIL FRIDAY, APRIL 8 AT 5PM.
FIT-to-GO is kicking off their newest 6-week wellness challenge, Pound-4-Pounds! The spring challenge will be open to the general public. This event offers the opportunity to experience transformation on several levels. Participants will be encouraged to challenge themselves in the areas of weight loss, inches lost, and strength gained. At the end of the 6-week challenge, prizes will be awarded to the individual with greatest percentage of total weight lost, greatest percentage of body fat lost, most inches lost, and the individual with the greatest improvement in muscular endurance.
The 6-week Pound-4-Pounds challenge will begin Saturday, April 2nd at 11am and will be held at FIT-to- GO. Each participant is asked to bring a non-perishable item(s) to donate to the local food pantry as an "entry-fee" to benefit the Litchfield Food Pantry. There will be an assessment done during the first and last week of the challenge that will measure weight loss, inches lost and strength gained. Following the assessment there will be optional weekly check-ins and motivational meetings to help keep each individual stay on track. Classes will take place for the 6-weeks following April 2nd, each Saturday at 11am. Final check-in will be held on Saturday, May 7th at 11am to determine the results.
---
---
Welcome to FIT-to-GO Fitness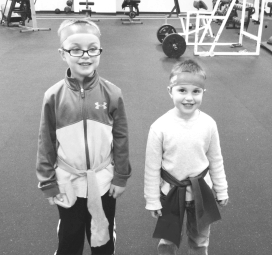 FIT-to-GO, LLC is a welcoming fitness facility dedicated to catering to the client and their individual needs in order to guide them in reaching their goals. We want to give ordinary people the ability to achieve extraordinary results; through integrity, accountability, education and environment. FIT-to-GO is located at 502 East Edwards Street, Litchfield, Illinois.
FIT-to-GO, LLC IS PROUD TO NOW OFFER FULL SERVICE FACILITY MEMBERSHIP PLANS. OUR CARDIO EQUIPMENT INCLUDES TREADMILLS, ELLIPTICALS, UPRIGHT AND RECUMBENT BIKES, JACOBS LADDER, STAIR MILL, CARDIO STRIDER, & ROW MACHINE. WE HAVE A WIDE RANGE OF FREE WEIGHTS AS WELL AS SELECTORIZED WEIGHT MACHINES. WE ALSO OFFER GROUP FITNESS PROGRAMS AND PERSONAL TRAINING BY A HIGHLY EDUCATED AND PROFESSIONAL STAFF.​​
---
---
How can you benefit from the FIT-to-GO experience?
1. FIT-to-GO offers qualified and professional fitness training from highly educated and experienced trainers, thus GUARANTEEING the RESULTS that you've been looking for.

2. You are provided with motivation and encouragement. Sometimes you fall short of reaching your fitness goals because of a lack of support. You receive one-on-one support.

3. You are offered an unending commitment to excellence. You can only benefit from an environment that fosters excellence. Never settle for mediocrity.

4. Information in the fitness and wellness industry in constantly changing. You will always receive updated information and cutting edge instruction, thus giving you a better chance of reaching YOUR FITNESS GOALS.
---